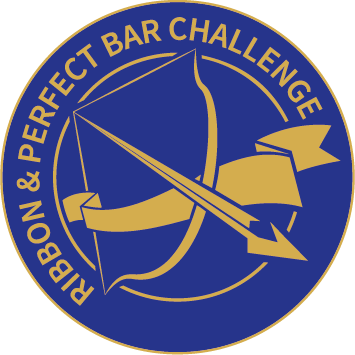 The Ribbon and Perfect Bar
---
A competition against yourself (Challenge). You will start easy, on a 122 cm target face on 30 meters, but with every challenge it will get harder. The target faces keep getting smaller and smaller, in the end you are shooting a 10 cm target face........ at 30 meters. Till you have collected every Ribbon and Perfect Bar.

The Challenge
Click on one of the logo's for more information.

---
about
---
The Ribbon and Perfect Bar Challenge is a competition to get the best out of yourself. You don't shoot against an opponent, but against yourself.
Every Ribbon you can get gets harder.
You start on a 122 cm target face at 30 meters and you can keep testing yourself up to and including the 10 cm target face at 30 meters.
Youth shoots the challenge at 20 meters.
You can shoot the Perfect Bar in every Ribbon color if you shoot all 6 arrows in yellow (9 and 10) in 1 round.
You can compete with any bow, as long as it complies with WA regulations.
To participate you must be a member of a local archery club. A membership of a federation is not required.
You can only participate by pre-registration using the form below.
There is no registration possible on competition days.


Competition Dates
| Month | |
| --- | --- |
| March | No Date |
| May | 29 May 2022 HBS Pijlsnel |
| July | 31 July 2022 HSV Waterlandschutters |
| September | No date |
The Challenge starts at 10:00.
Administration is open for archers from 9:00.
The Challenge will end at approximately 16:00 with 2 breaks during the competition.

Ianseo
For the score processing we make use of Ianseo. For each lane we ask an archer who is willing to install the Ianseo scorekeeper app on their phone and keep the scores for that lane.


Link